It boasts a penthouse view over Central London, a private wine-tasting facility and an underground passage to a Heston Blumenthal restaurant.
Throw in security measures a James Bond villain would be proud of and a 'panic room' in case things go wrong, and you would expect to pay a high price.
But even estate agents could not contain their amazement yesterday as a London property was on the verge of being sold for £140million – making it the most expensive flat in the world.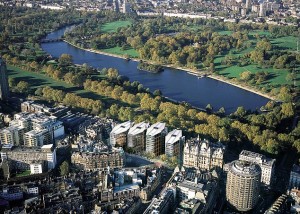 Costing more than £6,000 per square foot, the two-floor apartment in the One Hyde Park, Knightsbridge block has floor-to-ceiling windows, its own car park and access to a host of spas and squash courts.
There is also a tunnel to the neighbouring Mandarin Oriental Hotel – where TV chef Blumenthal will soon open his first London restaurant – to allow residents access to 24-hour room service, while the performance car-maker McLaren is opening a showroom on the ground floor.
And should the residents feel the need to venture outside, the local 'corner shops' include Harrods and Harvey Nichols.