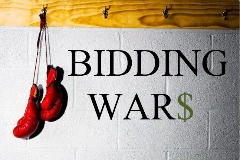 Some real estate markets are reporting that home buyers are having to pay more than asking price to get the home they desire, as the supply of for-sale homes has shrunk, Bloomberg News reports.
Bidding wars were a common part of real estate in 2006. But when the market turned from a "seller's market" to "buyer's market," more sellers started seeing lowball bids than high bids. Now times are slowly changing, and bidding wars are being reported in several markets, such as in Seattle, Boston, Silicon Valley, Miami, and Washington, D.C., Bloomberg reports.
The inventory of homes for-sale is near a six-year low. Mixed with the low inventory, the job market has been improving and buyers are being lured to the record level of affordability in the housing market. Existing-home sales and pending home sales are up more than 8 percent compared to a year earlier, the National Association of REALTORS® recently reported. Trulia Inc. also reported that falling home values and low mortgage rates have made home buying a better deal than renting in 98 of the 100 largest metro areas.
"The housing crash is finally giving way to recovery in an increasing number of markets across the country," Mark Zandi, chief economist for Moody's Analytics, told Blommberg. "The decline in unsold listings and vacant homes and the increase in rents presage better times ahead for single-family housing."
In South Florida's attractive areas we are definitely seeing this trend, a house on the water advertised for 650,000 two weeks ago was under contract for significantly more than 750,000 in less than a week.