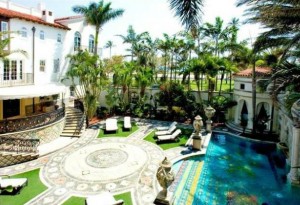 Casa Casuarina, the famed South Beach mansion once owned by Italian designer Gianni Versace, is for sale, this time with a jaw-dropping price tag of $125 million.
The for-sale listing comes as the property's owner, telecommunications entrepreneur Peter Loftin, is fighting a foreclosure action filed against the property in December 2011 by a prominent New York family that also has a stake in The Victor Hotel next door.
See full listing at Versace Mansion
The mansion at 1116 Ocean Drive has 10 bedrooms, each ornately decorated in a fantasy theme with exclusive fabrics, tiles and ceramics, 11 baths and a 54-foot mosaic inlaid pool lined in 24-karat gold. It's chock full of frescoes and statues with a large open air courtyard.
The listing comes as luxury properties in South Florida are selling fast and fetching incredulous prices. A home at 14 Indian Creek Island Road in Miami Beach sold for $38.5 million in March.