Indian Creek Island is located 100 yards / meters west of Surfside where you can find houses from 300,000. Indian Creek is the most Private and Exclusive Island in Miami and residences for sale today range between 14 and 60 mil.  Link to all properties Link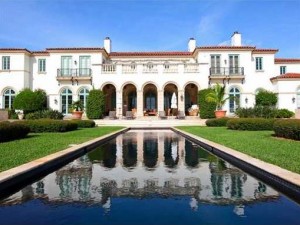 Franklin Resources Chairman Charles Johnson has put his 16,000-square-foot (1,500 m2) Indian Creek Island mansion up for sale for $32.5 million, making it the priciest waterfront home on the resale market in Miami-Dade County. Tax is $256,895 / year or $700 / day. Of course, the listing price,  is hardly shocking next to the $60 million that a brand-new 30,000-square-foot mansion is asking nearby.
AOL's Housing Watch suggests that perhaps the owners are selling after a dispute with the village of Indian Creek. Over the summer, Johnson and several of his neighbors sued over a property tax increase for the Indian Creek Country Club and four of the homes on the island, while taxes decreased for everyone else. Buyers of Johnson's five-bedroom home and its two acres of bay front land will count among their neighbors supermodel Adriana Lima and her husband, basketball star Marko Jaric, who purchased in the private community last year.