ORLANDO, Fla. – Aug. 23, 2010 – Second homes, whether in the mountains or at the beach, have long had a strong family appeal. In recent years, savvy developers have been building communities aimed at families in the same way they once built for avid golfers, skiers or tennis players. Many of the homes are being bought because of family-friendly amenities and are used as a place for family gatherings, especially during holidays.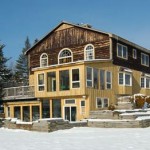 "Family-friendly definitely sells now," says Steve Adelson, a partner in Discovery Land Co., which develops luxury second-home communities with a family focus. "In today's market, the speculators are gone, and our buyers are real users. For people to be able to afford these kinds of homes, they usually have worked hard, spent a lot of time in the office, and on vacation they really want quality time with their families."
Indicative of the appeal: Discovery has sold over $600 million worth of real estate this year, despite the economy.
The best family-centric communities have extensive supervised programs for kids, clubhouses and sports, activities and classes. Facilities and programs tend to be elaborate:
• At California's Martis Camp, near Lake Tahoe, the "Family Barn" has a bowling alley, movie theater, soda fountain and stage. An outdoor sports complex offers croquet, lawn bowling, basketball courts, a soccer field, softball diamond and barbecue area. A separate "folk school" offers classes in photography and pottery.
• Colorado's Snowmass resort has a multilevel, ski-in and ski-out "Treehouse Kids' Adventure Center."
• In addition to 35 miles of bike paths, a kids' camp, three golf courses, equestrian and fly-fishing, Oregon's Sunriver Resort has a domed astronomical observatory with a retractable roof and 13 telescopes. In summer, educational programs and viewings are conducted daily.
• Colorado's Beaver Creek ski resort built a gondola for its kids' ski school, has a skating rink, performing arts area and free cookies for skiers.
• At Idaho's Gozzer Ranch, children make their own movie that's "screened" for parents, complete with a red carpet and popcorn.
Most communities also offer simpler activities, which Adelson calls "Norman Rockwellian," such as bingo nights and campfire steak cookouts. The best have put a summer camp twist on second-home ownership. Copyright © 2010 USA TODAY, a division of Gannett Co. Inc., Larry Olmsted.
Please contact Home in US for your vacation home in the sun!