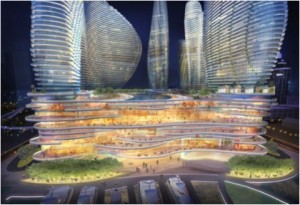 Malaysian firm Genting's purchase of the Miami Herald headquarters this year and large-scale plans for a casino resort could be the first of a wave of Asian investment in Miami, brokers and analysts say — both in the commercial and residential sectors.
While Latin American, Canadian and European buyers have spearheaded a sales surge in Miami, particularly on the residential side, Asian investment could be on the way.
And in fact, Genting is not alone.Fellow developer Swire Properties, which is working on the mixed-use Brickell CitiCentre project downtown, has significant Hong Kong ties.
One of the notable guests at the official opening of developer Wexford's University of Miami Life Science and Technology Park last month was a delegation from Taiwan.
"It's my belief that we're going to see a lot more Asian investment in South Florida in the future," said Miami real estate analyst Jack McCabe. "They'll add to the pot of buyers, which bodes well for sellers in the future. But I think there's more and more [Asian] interest in South Florida."