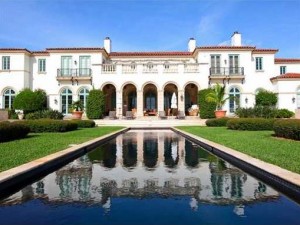 Home sale prices soar again in Florida. The exclusive world of high-end residential real estate is often narrowed to Manhattan or Beverly Hills — but South Florida cannot be counted out.
Late last month, a Miami penthouse sold for a record $25 million. Meanwhile, a developer's 10-bedroom home on Indian Creek Island that has been listed at $52 million has gone under contract, brokers said.
The record is currently held by a hedge-fund billionaire who bought an Indian Creek home in March for $38.4 million.
"Everything is kind of selling now," said Jill Hertzberg, a Coldwell Banker agent in Miami. "You wonder how long it will last."
Southwest Florida real estate agents are asking the same question. Since the start of the year, luxury homes priced at $1 million or more have been selling briskly.
In February, sales of $1 million-plus homes in Sarasota, Manatee and Charlotte counties were up 48 percent from a year ago. In March, in Sarasota County, seven-figure sales jumped 48 percent over the same month in 2011.
Notable recent sales include a $7.1 million deal for a 6,618-square-foot property on Lido Shores, and a $5.77 million transaction for a 7,722-square-foot residence on Casey Key, which marked the largest real estate sale on the tony Nokomis key this year.
Enormous price tags
The pending sale on Indian Creek — home to crooner Julio Iglesias and others among the region's famous, or at least rich — is the latest in a string of high-end homes that have sold in Miami over the last three months.
All of the sales have been over $10 million, prompting new listings carrying enormous price tags. A 21,746-square-foot home on Indian Creek recently went up for sale for $45 million, and a New York developer just raised the listing price on his penthouse at Continuum towers, in Miami Beach, to $39 million — from $35 million.