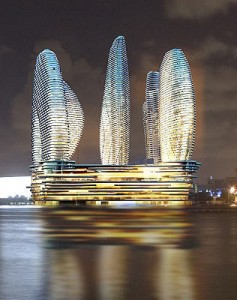 The extravagant design proposal for the mammoth Miami gambling resort that would replace the soon-to-be-departed Miami Herald building on Biscayne Bay is inspired by a coral reef, its architect says.
The proposed Malaysian-owned Genting resort would cover more than 10 acres with a futuristic, eight-story platform of undulating concrete and glass containing dozens of shops, restaurants, a colossal gambling floor and extensive kitchens. Atop it would sit an artificial outdoor lagoon and sand beach that starts near Biscayne Boulevard, spans North Bayshore Drive and ends in an infinity edge overlooking the bay.
At each of four corners, overlooking the lagoon, would stand 65-story hotel towers whose irregular, biomorphic shapes are taken from coral formations and the sea life that inhabits them.
Nowhere is there a straight line or sharp corner, except for the legally protected, historic Art Deco Boulevard Shops on Biscayne, which would be renovated and stand alone.
Lim said his group was looking for an "iconic design'' that would lure visitors to Miami. "We feel it could be a transformational thing.''
Full article at Miami Herald