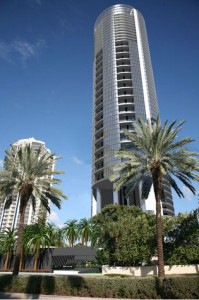 The latest twist on designer parking garages: a Jetsonesque elevator that whisks residents to their condos while they are still in the driver's seat.
Pull over into the designated space. Turn off the engine. And enjoy the oceanfront view as you escalate in a glass elevator that takes you, while you are sitting in your car, to the front door of your apartment.
No, this is not the latest Disney ride.
The $560 million Jetsonesque tower will rise in Sunny Isles Beach as part of a collaboration between Germany-based Porsche Design Group and a local developer, Gil Dezer. It likely will be the world's first condominium complex with elevators that will take residents directly to their units while they are sitting in their cars.
"You don't have to leave your car until you are in front of your apartment," said Juergen Gessler, CEO of Porsche Design Group.
This is yet another sign that interest and confidence is returning very quickly to the Miami real estate market says Stefan Latt of Home in U.S.
See full story at: Miami Herald