Success Seminar at the Flamingo on building credit and the current market opportunity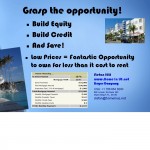 On Thursday August 19 Keyes Realtors Nalene Rampersaud, Orlando Irsula and Stefan Latt held a 90 min lunch seminar advising renters on building credit and exploring the current market opportunity. Once again it is possible to buy and save, that is with today's rates the total cost of ownership including fees and taxes are less than the cost of renting an equal unit in the same complex.
The Flamingo is a unique complex that features one rental building and one condo building, current renters can move 50 yards, enjoy the same amenities, save and build credit at the same time.
Currently the least expensive listing at the Flamingo is a 590 sqft studio offered for under $100,000
Stefan Latt