A firm led by a Belgian investor has acquired the sites of two planned South Beach apartment projects in a deed in lieu of foreclosure and a short sale.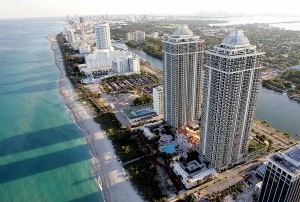 The largest deal involved a 12-unit apartment project in mid-construction in which Banco Popular North America let the developer sell the property for 52 percent less than its mortgage.
Delaware-based Bay Lights Miami Beach Developments bought the project, at 1910 Bay Drive, for $4.58 million from Bay Lights Development Co. Roberto Celea, of Heusden-Zolder, Belgium, manages the buyer.
In October, Banco Popular modified the construction mortgage on that site at $9.57 million, including a $1.28 million future advance. After the sale, the bank released the mortgage in full. It never filed for foreclosure.
In the other deal, Nine45 Developments, which also is managed by Celea, took the site at 945 Jefferson Ave. from Stone Development in consideration for releasing it from a $2.78 million mortgage. The investor bought the loan in August from Boca Raton-based 1st United Bank (NASDAQ: FUBC). No foreclosure lawsuit was filed.
The 7,000-square-foot site has approval for the construction of a four-story, seven-unit apartment building
South Florida Business Journal – by Brian Bandell